Hon.
Ralph
Eichler
MLA for Lakeside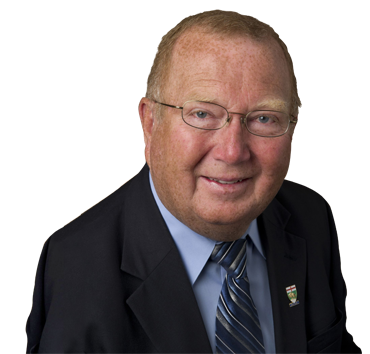 By signing up you consent to recieve electronic messages from Manitoba PC Caucus
Stonewall celebrates government funding for lagoon
The Town of Stonewall is flush with  government funding towards its lagoon upgrade project.
On Friday, May 5, representatives from all three levels of government gathered in the Stonewall council chambers to officially announce $3.45 million in funding for much-needed lagoon upgrades.
Through the Clean Water and  Wastewater Fund, the federal government will contribute $2.3 million, while the provincial government will provide $1.15 million and the town will pay the balance.
Stonewall Mayor Lockie McLean is  thrilled with the announcement. "This is huge for Stonewall," he said. "During my time on council, it's one of the biggest grants this town has ever seen."
For the taxpayers, it means they will end up paying much less than the amount that was originally calculated, which was estimated at $122.76 per parcel each year over a 20-year period. The calculations are currently being reworked.
McLean gave kudos to chief administrative officer Doreen Steg, who was instrumental in putting the grant application package together.
"I want to thank Doreen, in particular, who worked the hardest and had to push at all levels to get this done," he said."She gets top marks, for sure." He also acknowledged the efforts of Lakeside MLA Ralph Eichler and Selkirk-Interlake-Eastman MP James Bezan.
Eichler noted that Stonewall was at the top of the list when the government was considering the application packages.
"Of course, we're very proud," said Eichler, the agriculture minister. "James and I worked on behalf of the constituents of both of our ridings, which we're glad to do and to partner with the town because we know it's going to boom even more than it already has."
Bezan added that the $2.3 million federal contribution marks one of the largest infrastructure investments in Manitoba through the grant program. "I'd like to congratulate the Town of Stonewall for putting together such a great application. You've got to have a solid application just to get considered going through any of the federal and provincial infrastructure pro grams, so it is critical," he said.
"I also really have to thank Ralph. Being a minister now, Ralph has that influence that is so important." In rural Manitoba, the future depends on making sure that communi-
ties are healthy so that they can con tinue to grow and prosper, Bezan said.
"Municipal infrastructure, the lagoon in particular, is so critical in continuing to allow the town to grow and to provide the services that everybody here depends on. It also attracts so many other people that want to call Stonewall home because of all the services and programs that are available," he said.
"This is such a beautiful town and we can't take infrastructure dollars for granted."
By: Staff-Stonewall Teulon Tribune
Thursday, May 11, 2017